Exclamation points!!!
They've always been a point of contention at Network9. Julia, our Social Media Manager, loves exclamation points! She uses them liberally in all of her emails, texts and blog posts!
Carmen, the Chief Network-Niner, was… less of a fan. Carmen would always say…
"It makes you look amateurish if you overuse them. Use periods."
But for Julia, who grew up in the texting generation, if someone uses a period is a sign they are mad at you.
Here's an example of simple texting situation:
Julia's Text: "Hey! You want to go to the movies next week??"

Response: "Sure." Wait there's no exclamation point there. Why are you – Sure!?
In Julia's paranoid inner mind, there's now a hundred and one different thoughts going through her brain – What happened? Why is he mad? Does he not like the movies? Are the movies a stupid choice? Is it that he just doesn't want to go with ME.
Using a period was just too serious for this text. But what IS the correct use of exclamation point?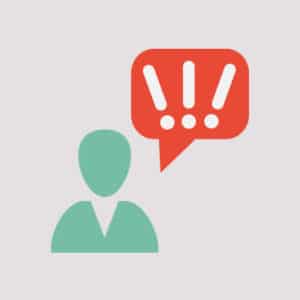 Carmen recently read a new study by the Nielsen-Norman group that focused on, you guessed it – Exclamation points!
New Research Has Changed The Way We View Exclamation Points!
The Nielsen-Norman group recently changed their position on the use of exclamation points. In 2001, they reported the use of an exclamation point as being "obnoxious" and suggested it "forced excitement on the reader." 10 years later, they've changed their tune and revealed some new research (Scroll down to #5 on the list to see what we're talking about). The exclamation point has come of age in writing web content because:
Users scan web copy and miss subtle enthusiasm in content.
Eyetracking has found users are attracted to exclamation points.
They give the period a break! Readers get bored, and sometimes even fatigued reading many sentences in a row that all endnd with periods.
According to the Nielsen-Norman Group, the exclamation point is a design element. It attracts attention and makes your web content easy to engage with. It has nothing to do with being "amateurish" or "friendly" – it is a means to an end when it comes to audience engagement.
Carmen has changed her mind too! She loves exclamation points!!! She wants to use a million of them in all of our posts!!!!!!! Well maybe that's an exaggeration, but she does see the value in peppering them throughout a post.
No Longer Just For Tweens
What's the key take away? Embrace the exclamation point! It no longer makes you look like an adolescent who thinks everything is totally awesome!
But FYI, don't ever spell "thanks", "THX". What are you, 12?