Theatre marketing ideas for the Digital Age: Pt. 1
Network9 is based in New York City, the theatre capital of the world. We all love the theatre and want all Broadway and off-Broadway seats to be filled. Here are 4 theater marketing ideas to becoming a smash hit ONLINE!
After working in the branding, design and web presence business as long as we have, we've all noticed something: most theaters aren't using marketing technology to their advantage. Really?
Theaters aren't taking full advantage of the online resources that could generate buzz and sell more tickets.
Theater marketing ideas for the digital age: Be a smash hit online
Whether it be an out-of-date website or an underutilized social media presence, theaters aren't taking full advantage of the online resources that could increase visibility and boost sales. Here are some theater marketing ideas that can help you fill the house.
Learn more about our brand strategy work here
Use social media to build buzz and connection
First of all, the purpose of social media is NOT to sell tickets. I know – this is counterintuitive, considering we JUST said that online resources could make you sales. But hear us out.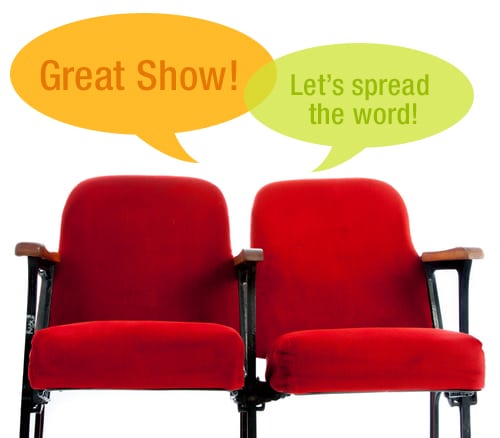 The purpose of social media is to connect with your fans and get them talking about you, which will naturally lead to more asses in seats.
Use every social media platform as a way to genuinely connect and engage – and while you're at it, make it an extension of your art.
I've heard theaters are worried about giving the show away or ruining the live experience. But we disagree. When you give away a taste of the cherry vanilla, they will buy a cone.
---
And now a moment for a shameless plug. The author and Boss Lady of Network9 wants you to know we take design seriously. Check out our Brand Strategy, Website and Graphic Design services.
During this crisis, I want to support businesses to pivot their message so they focus on a relevant service. Feel free to download my guide to winning business—even now
---
#1. Use INSTAGRAM to post visually exciting images
Instagram has taken the lead in social content. Broadway is a natural for this platform and can bring in a new generation of theater lovers.
Stop worrying about giving something away and share the energy, joy and excitement!
Share photos of the show—and if you spot a celeb in the audience, post that too.
Make visual images of quotes from the audience.
Start a contest.
Invite others to share selfies of their special evening with you.
People want to be a part of that.
TWITTER: theater marketing ideas in a snapshot
It's no secret when it comes to sales: everyone hates being sold to. If every tweet your theatre posts is just a push to buy tickets, who's going to follow you for long? Make your twitter as creative as your productions are. Show them what you've got!
A few ideas for creative tweets:
Quotes from your staff/crew/artists about their experience as they rehearse or perform. Everyone loves insider information.
Links to press about your theatre
Trivia about your show!  Or perhaps a quiz to test your followers' knowledge?  Everyone wants to play.
Photos from your shows—Shows are gorgeous and tweets with photos have a higher share value than those that don't.
Exclusive parties and promotions
Exclusive discount codes for tickets
Shout-outs to OTHER theatre companies you have a good relationship with/love the work of (we're all in this together, folks!)
RETWEET posts from your resident artists
Then get the SHARING going. Ask your followers to RETWEET your posts to enter contests you may be running for free tickets or another perk. Have a retweet challenge: "if this gets 10 retweets, we'll post the opening line from our newest play…"
Statistically, social shares generate an extra $1.94 per ticket per share. Doesn't sound like much, but if you get 300 shares on a single post, well…
FACEBOOK marketing for theaters
Your theatre's Facebook is THE place to get fans talking about your theatre and shows. While Twitter is a great place to have a quick chat with your followers, Facebook should be a daily updated newsletter full of interesting stories.
Marketing ideas for your FacebookTheater page:
Post photos of your theatre in action. Packed houses, amazing shows – get people visually interested in the stories you're telling. Use dynamic photos that get people asking "I want to see more of that!"
Tell stories: Profiles of actors, writers, designers and other creatives working on your latest show will add a personal touch.
USE PICTURES – it's a proven fact that people LOVE looking at other people, so keep it visual.
Get resident artists involved by asking them link to your Facebook page on their personal pages, ESPECIALLY if they're currently involved in a show.
Place an ad to reach theatre fans in your particular area. Facebook's free demographic analysis will be a big help in finding people in your area to connect with, or visitors to your city looking for entertainment.
Create Facebook contests to get more people sharing and liking your page
Join relevant Facebook groups to get your page noticed by theatre geeks all over your area.

YOUTUBE ideas
Theaters can especially benefit from a great YouTube channel. You've got tons of great writers – have them write content you can shoot, edit, and put up on YouTube as promo material.
A few ideas for YouTube promotions:
Did we say tell stories? Short interviews with actors, stage designers, the director, crew or dramaturgs about the project
Funny sketches that complement the current production
A web-series! (specifically promoting your theater)
Film a behind the scenes documentary
Get testimonials from fans, sprinkle them in
A YouTube Channel can be a creative extension of your theater, and can set the stage to get people excited about your latest production.
Be sure to promote your videos on all your social media channels for maximum views/shares.
There are other social media outlets that could be utilized for a theatre, but these 4 are the most prominent and relevant to your audience's interests.
In Part 2, we talk about what makes or breaks a theatre's website, and how YOUR site could be turning people away, leaving you with empty seats instead of getting you a standing ovation.  Read the article here