These are a few of our favorite things: Christmas movie quotes
Whether you're loving it or feeling more like a humbug this holiday season, let's all take a moment to get into the spirit.
Like the glow of twinkling lights, hot chestnuts and the scent of pine, quoting from of our favorite Christmas movies always reminds me to laugh, appreciate my family and friends or just be a little kinder. Grab a cup of hot cocoa and a candy cane and curl up.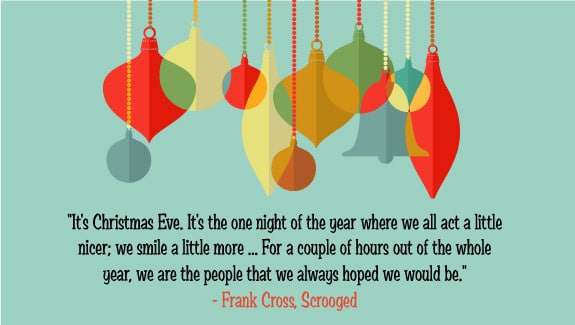 "Every time a bell rings, an angel get its wings."
— Zuzu Bailey, It's a Wonderful Life
"Look, Charlie, let's face it. We all know that Christmas is a big commercial racket. It's run by a big Eastern syndicate, you know."
Lucy, A Charlie Brown Christmas
"This place reminds me of Santa's workshop…except is smells like mushrooms and everyone looks like they want to hurt me."
— Buddy, Elf
"Can I refill your eggnog for you? Get your something to eat? Drive you out to the middle of nowhere and leave you for dead?"
— Clark, Christmas Vacation
"Keep the change, ya filthy animal."
— (background TV) – Home Alone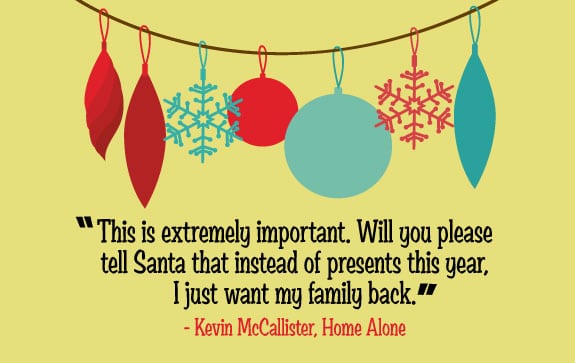 "I passed through the seven levels of the Candy Cane forest, through the sea of swirly-twirly gum drops, and then I walked through the Lincoln Tunnel."
— Buddy, Elf
"Just remember, the true spirit of Christmas lies in your heart."
— Santa Claus, The Polar Express
"Seeing isn't believing, believing is seeing."
— The Santa Clause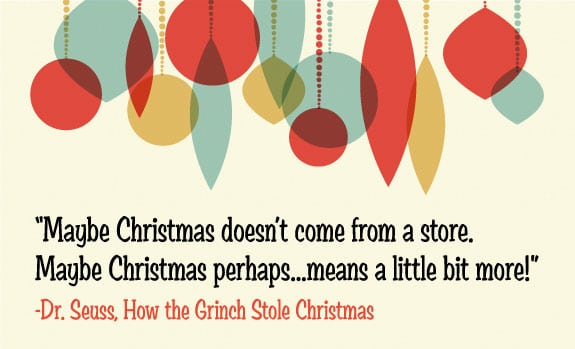 "I gotta tell you, Santa, there's something about this place that doesn't seem quite … Kosher."
— Howard Langston (Arnold Schwarzenegger) Jingle All the Way
"My dearest friend, if you don't mind, I'd like to join you by your side, where we can gaze into the stars and sit together, now and forever, for it is plain as anyone can see, we're simply meant to be."
— Jack and Sally, The Nightmare Before Christmas
"Buzz, your girlfriend…WOOF!"
— Kevin McCallister, Home Alone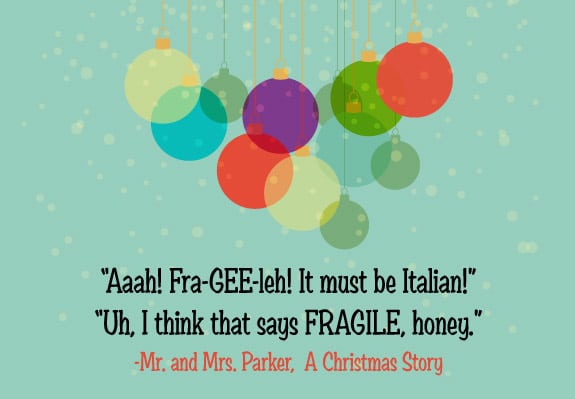 "The best way to spread Christmas cheer is singing loud for all to hear."
— Buddy, Elf
Narrator, of Scrooge: "And it was always said of him, that he knew how to keep Christmas well, if any man alive possessed the knowledge. May that be truly said of us, and all of us!''
—A Christmas Carol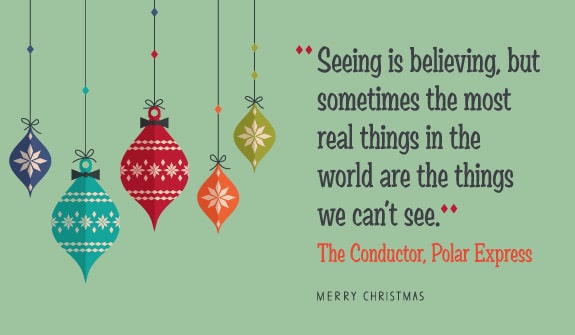 If you liked these christmas quotes, you may like to see another of our favorite holiday things…hideous holiday sweaters that will make you laugh.