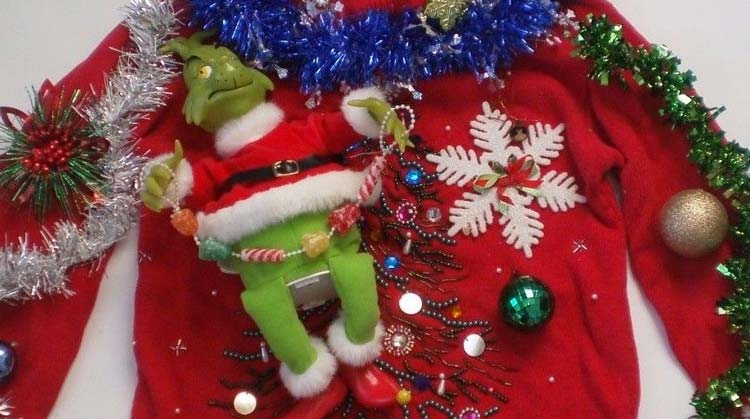 We could all use a little more cheer this year.
In the spirit of the holidays and all those parties you'll be going to this month, here are 55 ugly, downright hideous holiday sweaters to show some sparkle, get a laugh or literally light up the night every week for over a year.
We found a dazzling array of sweaters that astound the imagination. The creativity and dedication it took in making some of these creations was more than enough to cheer me up. And goodness knows, I need it this year.
Most of these are from eBay, where nothing is sacred where design is concerned!
2018 Additions
These noteworthy creations deserved a post update this year. Yup, that is a dinosaur attached front and back to an otherwise not so hideous sweater. Watch out you don't knock over the punch bowl.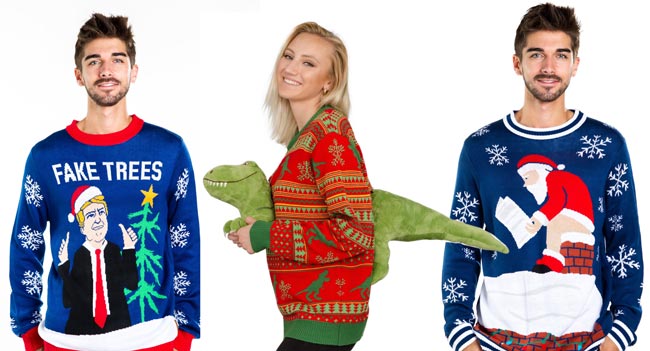 #1: Drunken Reindeer
This one ran away with the prize last year for the most hideous holiday sweater. I think it was the random tinsel garland meandering around the drunken reindeer. The globs of pom-poms and ornaments stuck to it topped this one off for me! A closeup of the reindeer is below so you can appreciate his too much eggnog expression.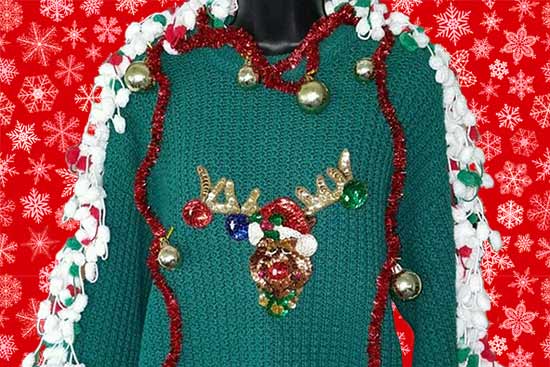 #2: Frogs Hanging on for Dear Life!
I'm not sure what happened here, but there are 2 frogs trying desperately to hold on. There was a nice symmetry to the tinsel puffs but the gold garland kind of loses the design focus.
#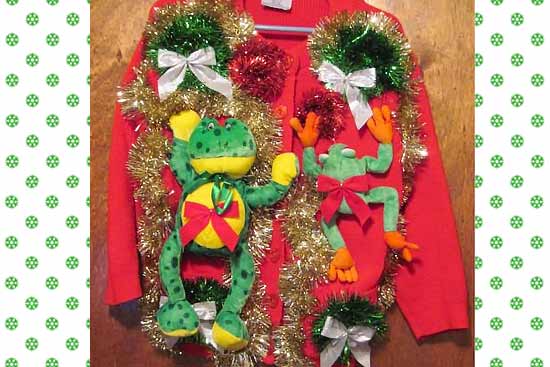 #3: Pink Snowstorm
Could anyone actually wear this and eat their holiday roast?  The giant snowflake masquerading as a wreath is surrounded by cheerful pink tinsel puffs. But the feather neckline balances it all out perfectly.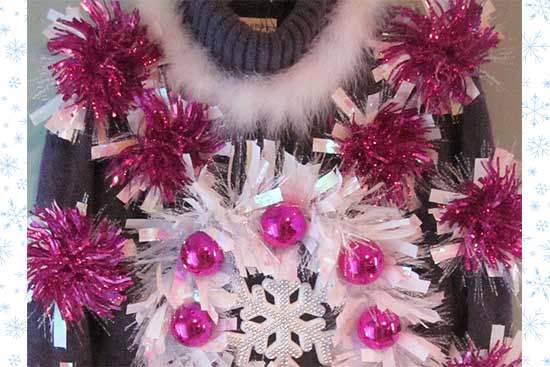 #4: Be Cheerful Coming and Going
This is what to do with all those leftover toys and stockings. In case this sweater is a bit too much for your friends, there are bells to alert them you are coming!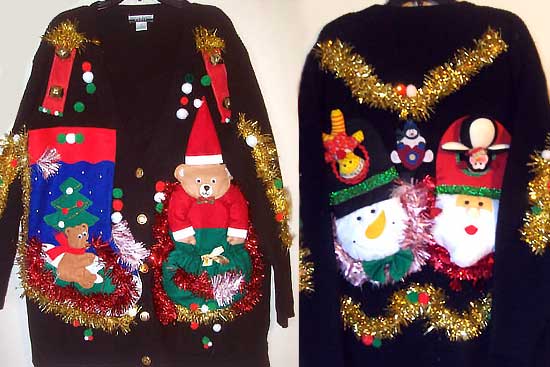 #5: Scaredy Cat
Is this a holdup? Or were the gifts stolen by the Grinch? We may never know how this terrified cat ended up here.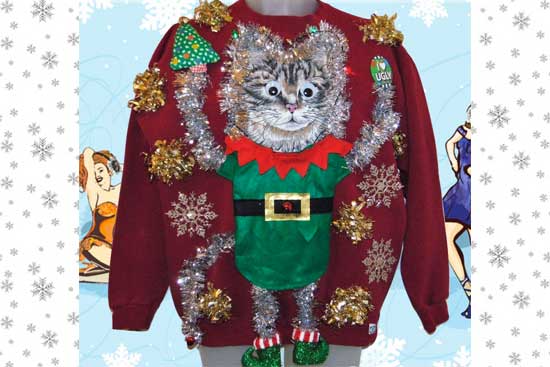 #6 & 7: Pink Flamingos
I saw a lot of flamingoes as a theme on holiday sweaters. I guess they were created by people who live in Florida? Maybe they fit down the chimney more easily.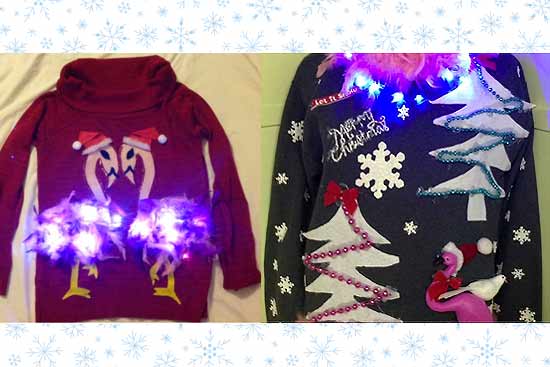 #8: Yup, it's a theme
Still have trouble with flamingoes, they're not even red or green. They do sort of work though.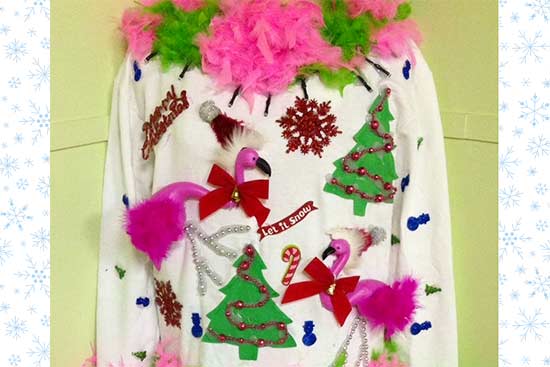 #9: Which Came First?
Animals are a big theme on hideous holiday sweaters. But chickens? Someone must really like them and the light-up tree is well executed.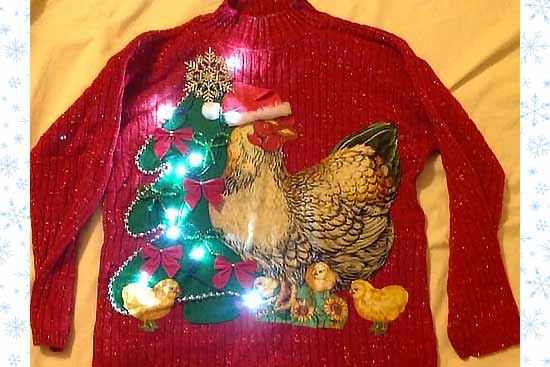 #10—13: Rudolph Joins in the Game
Well, finally something traditional! These are actually not terribly hideous, they're kind of cute.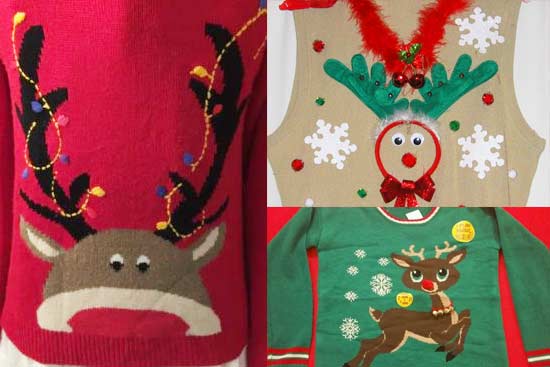 #14: It all Makes Sense on Christmas!
Monkeys, Fairy Godmother doll head and a penguin? Sure, it all makes sense! If I'm not mistaken, the monkey's headlight lights up too!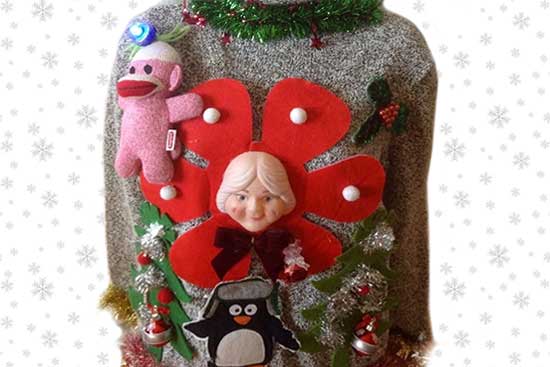 #15: Is it a Wreath?
Seriously? This one has it all. The symmetry here is good and the nod to a wreath inspired. I guess all you need is black leggings and silver flats with this one.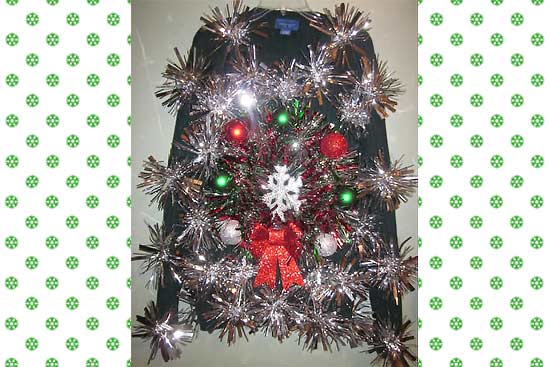 #16: What's Christmas Without The Grinch?
This must have happened after he found his heart or he would never have allowed it.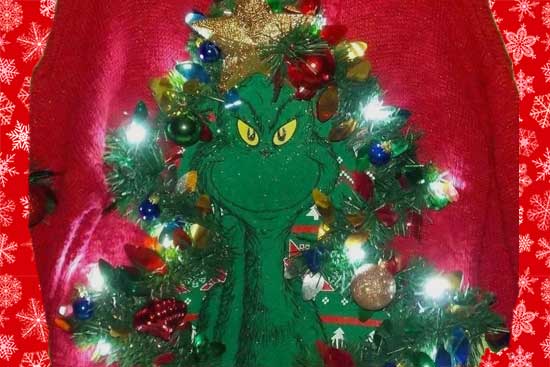 #17: Tinsel in a Tangle
The message is heartwarming during the stress of the holidays. This unusual vest really goes with anything.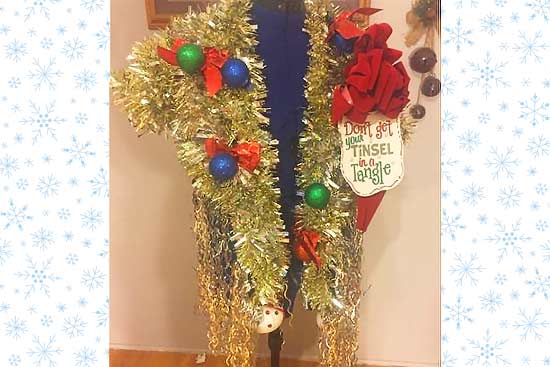 #18: The Light of the Party
This one made the list of hideous holiday sweaters just for the size of the bulbs alone. The chain feels like it's trying to be Gucci but the sequins do add a lot of cheer.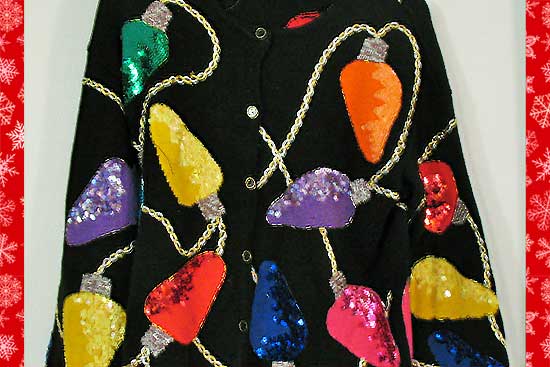 #19: Merry Elfin Xmas
Points for creativity here and typography treatment. A good sweater to make merry in once you've had a lot of eggnog.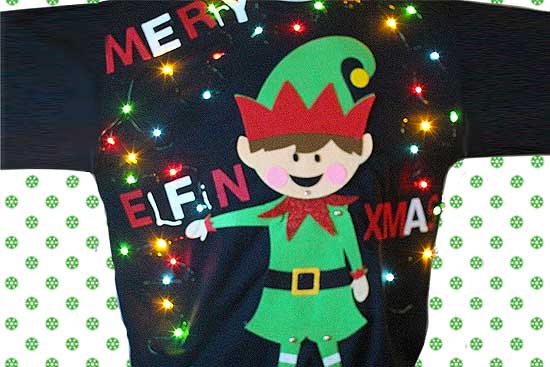 #20: Instant Elf
Just throw this on with striped leggings and you'll be good to go anywhere this season. Bring candy canes. You'll need em.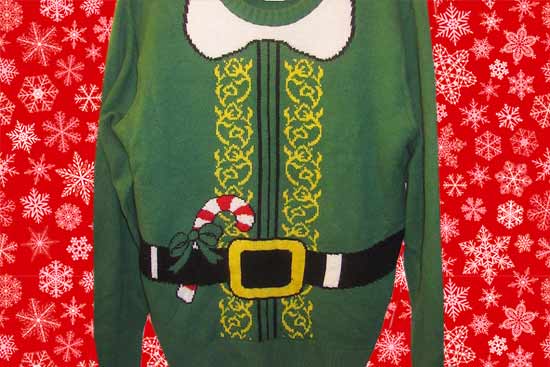 #21: Drama Queen
This must have been a labor of love. The beads, the glitter poinsettia and the silver neckline highlight the amazing singing cat.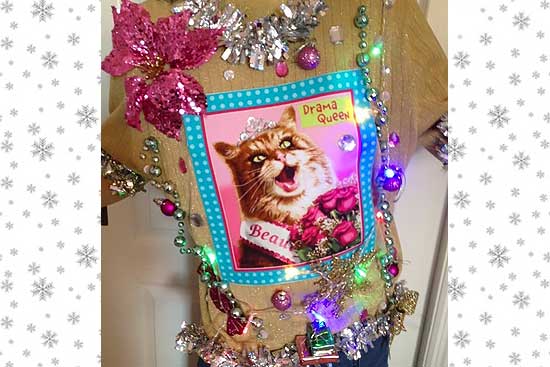 #22: Winner of an Ugly Sweater Contest
This one won the ugliest sweater contest at someone's party. I can see why! They may have swiped the bunny from some baby and picked up the leftover wrapping materials while they were at it!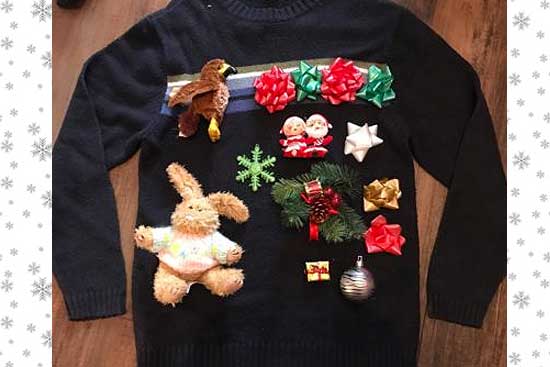 #23: Pissed Off Pug
Well, pugs often look pissed off even when they aren't. There are probably people who'd think this was cute…TIM?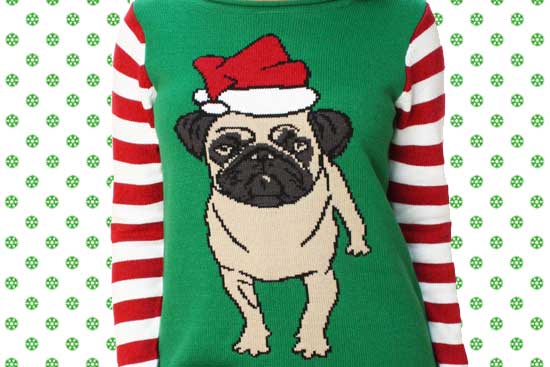 #24: Tic Tac Trim
I had to appreciate the effort in orderliness, but I must have an aversion to tinsel garlands and pickles stuck to holiday sweaters.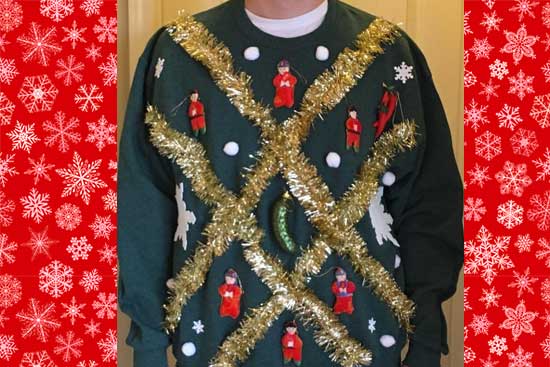 #25: Snowmen Party
This made the hideous list mainly for the choice of decoration. The dancing snowmen look like they are made from foam, so no points for quality here. But they used a red sweater at least!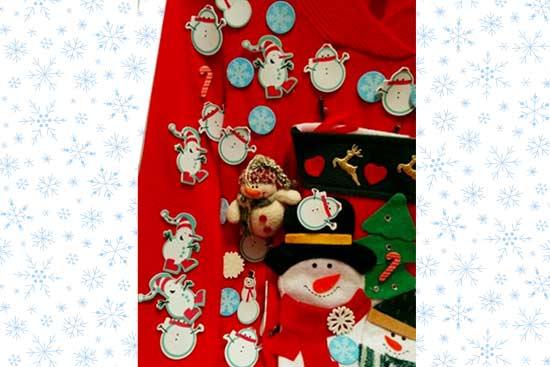 #26: Nose So Bright
OK, I lied. There are a few not so hideous holiday sweaters here. This one had me at the nose.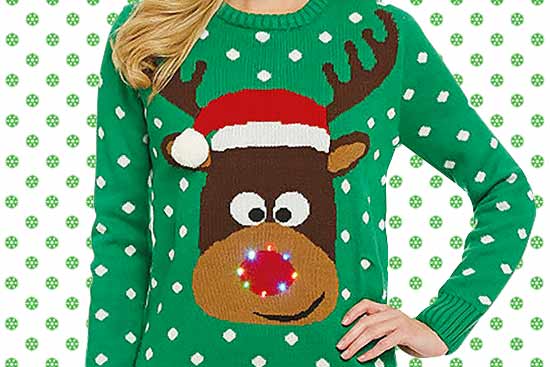 #27: Santa's Missing Body Parts
The disembodied Santa head placed over the boot looks like he's missing his body parts. No wonder he looks so disturbed.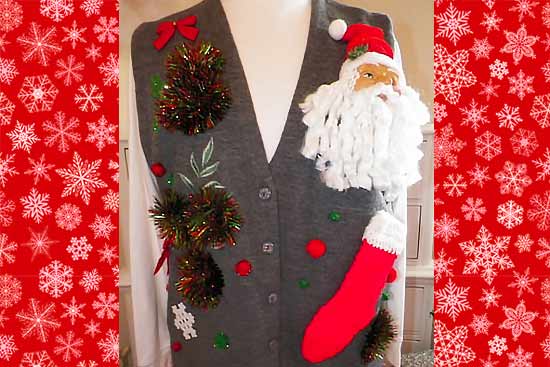 #28: Blue Christmas
The blue tinsel running down the sleeves cheers up this otherwise non-holiday colored sweater. Not sure what that oddly placed little gold blob is, must have been a leftover scrap of the gold tinsel.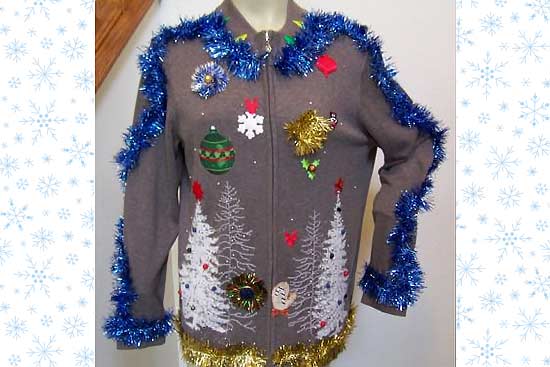 #29: Fairly Fair Isle
I know, I know, Fair Isle sweaters are very holidayish, though no one knows why. I guess the dangling drums as an accent got me.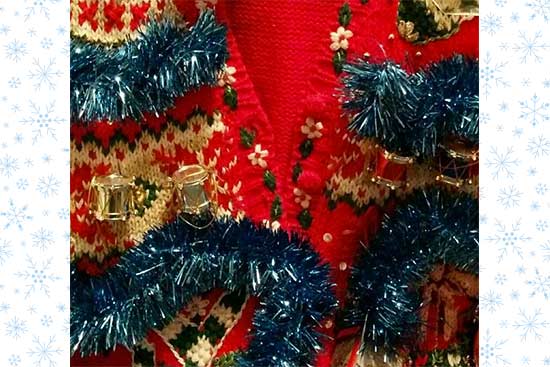 #30: Hey, Don't forget the Beer!
Note the pocket in the hat to hold your beer bottle in case you get stuck in the snow and can't get to the party. Oh, and the lights can provide guidance when all other lights go out.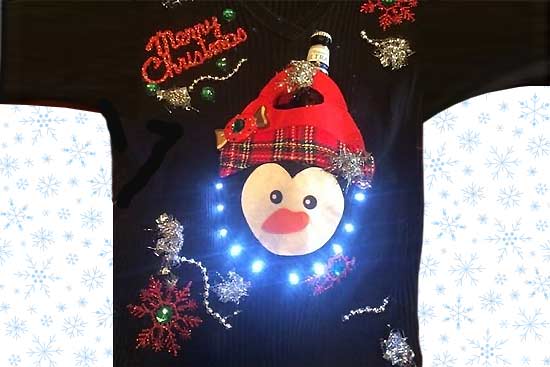 #31: Toy Box
Leftover or discarded toys can always be recycled into holiday sweaters. This proves it.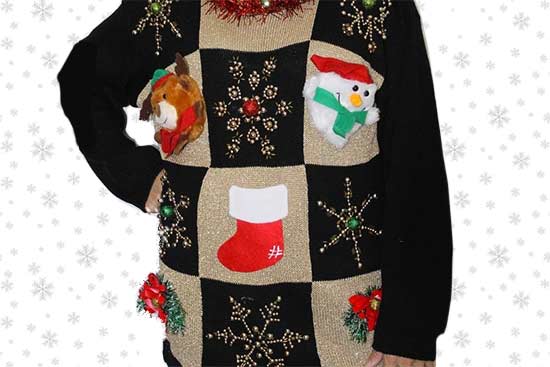 #32: Naughty Santa
Well, this one may be filed under tacky rather than hideous. But it made me laugh. No, wait, it really is awful.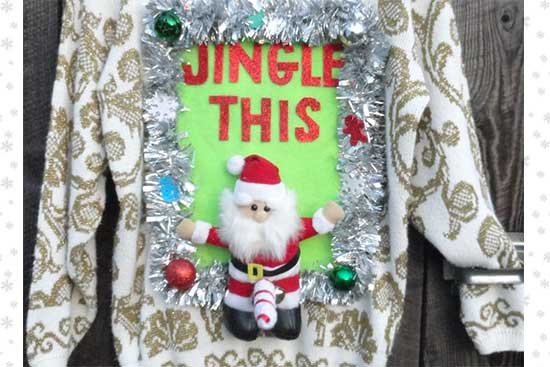 #33: Elfin High Five
This one grew on me. I admit, it's not totally hideous. Love the lights at the neckline and the spiffy shape the tinsel at the hem gives this sweater.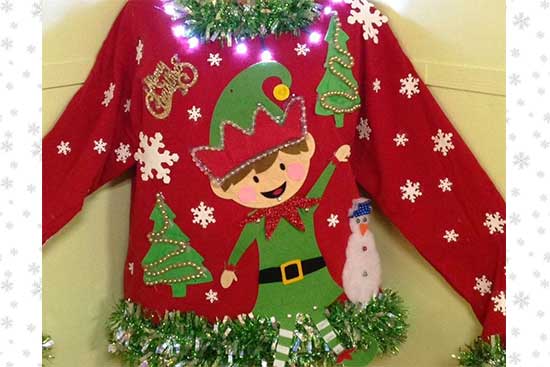 #34—40: Oy to the World
Chanukah makes no exception to hideous holiday sweater design. Make no mistake, there is creativity everywhere. Everyone, no matter their faith, can have a few laughs this time of year. These next sweaters prove my point. Shalom and happy Llamakah!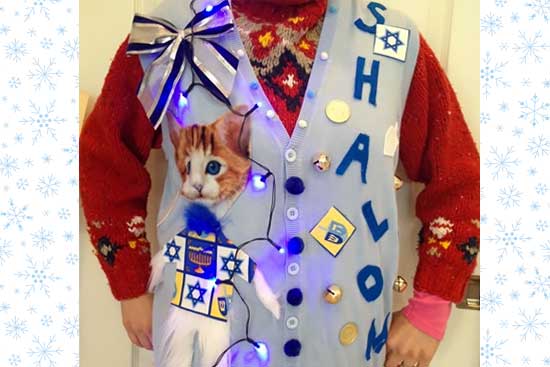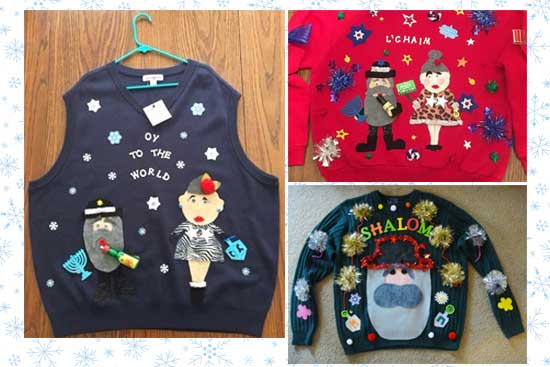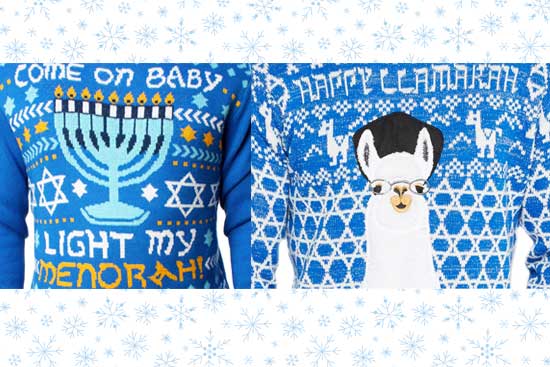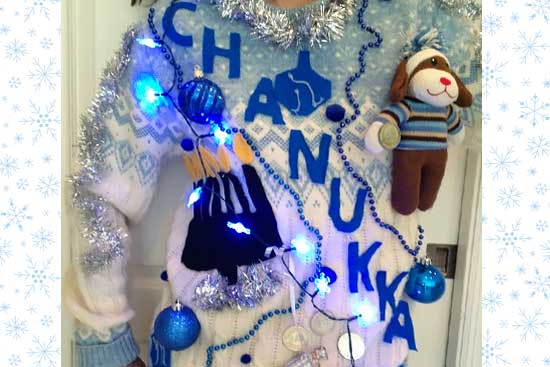 #41—45: No Break for Our Pets
Who said we forgot our pets? They have to wear what we wear so we don't feel so ridiculous. It's pretty cute too.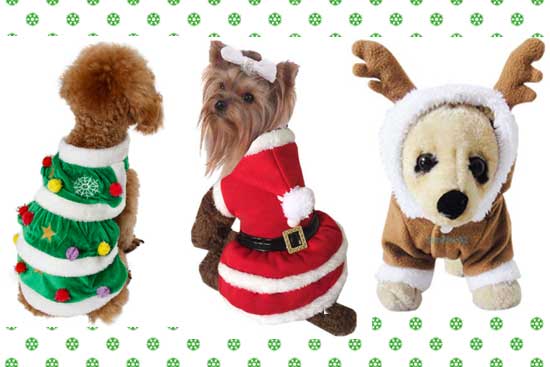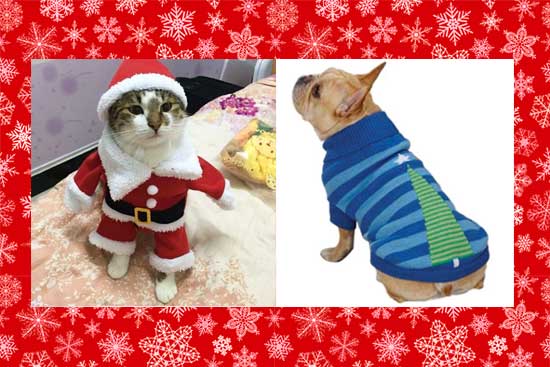 #46—49: For The Geeks in Your Life
ThinkGeek doesn't forget to fill the stockings of our favorite Star Trek, Pokemon and Naked Sky Santa devotees. No idea what the blue one is but someone will.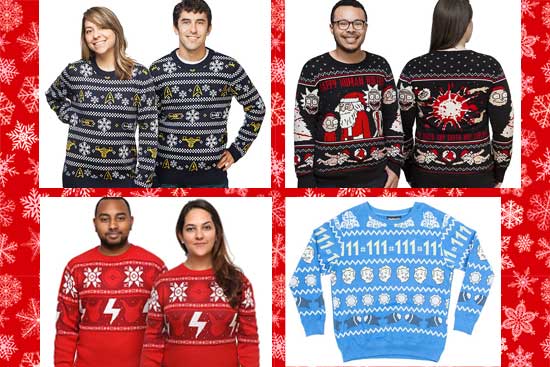 #50: It's My Party!
After all, it's His birthday.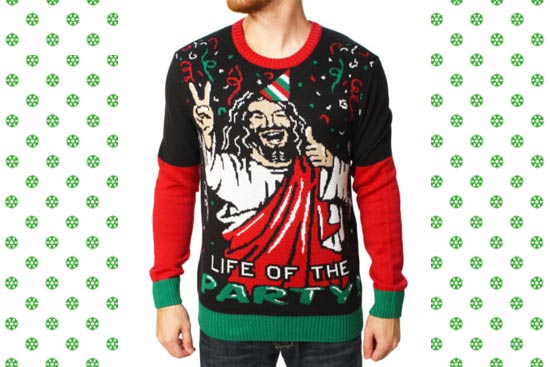 Aaaand the Award Goes To…
If you've been inspired to have an ugly, hideous holiday sweater party, yes, there is an award you can present to the winner. Get it on eBay.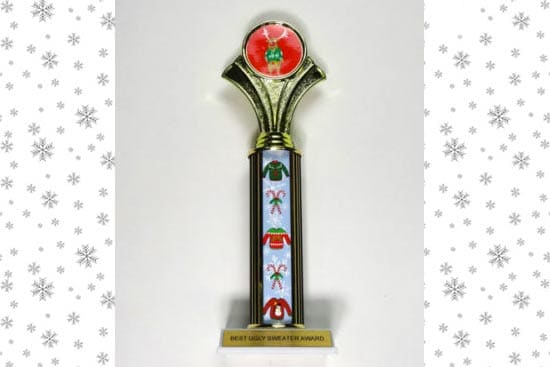 I know, there are 53 actual hideous, ugly holiday sweaters. I figured we'd need an extra one just in case.
This year, we wrote a post on Christmas ornaments commemorating 2020. It was one hell of a year, but I believe a touch of humor will keep us from going down the abyss. So light up the tree, the menorah or celebrate the holidays in any way that makes you feel good.
2020 Update: #51—53
We decided to check in on the ugly sweater scene and are pleased to see the enthusiasm hasn't waned. Here are 2 classics. The one on the left has a pocket to hold a beer! How thoughtful. The PLUS is a kit to make your own. Have fun, be of good cheer this year, no matter what you decide to wear.