A revolutionary title sequence style is launched with the first Bond film.
Everyone knows that James Bond looks good. But not everyone knows how the franchises' creators made 007 — and how the sets, sequences, and suits became icons of cinema style.
The story of James Bond isn't just found in an Ian Fleming spy novel. It is also a story of design. From fonts to fashion, here is a sample of the artwork from 007 title sequences that created a global empire of style and cool.
The Art of the Title

The Art of the Title created a video homage that celebrates 50 years of Bond opening title sequences.
Jean Luc-Godard once said "All you need for a movie is a gun and a girl." That is more than proven in Bond films.
Designing 007 title sequences introduced a new era of sexy movie titles
Especially if the girl comes in a nude silhouette. Watching the title sequences from 1962 to 2012, it's clear some things never change.
The Bond titles have become a genre unto themselves. Every Bond film uses the silhouette in a different way, creating a unique brand identity for their title sequences.
Maurice Binder, Robert Brownjohn, design studio MK12, and Daniel Kleinman are the creators of the stylish, lavish, evocative titles. The latest may be the greatest.
The Skyfall titles use of stark black and white images and eerie silhouettes with dreamlike animations created an emotional, powerful story in itself.
Here a just few of the silhouettes of girls, guns and grit of James Bond.

The original Bond Barrel sequence, made with paper dots.
Today's colossal Bond budgets mean its directors have been able to afford the cutting-edge technology necessary to advance design, as seen to our delight in Skyfall.
But the celebrated original "Bond Barrel" sequence, in which white dots animate in stop-frame motion across the screen to become a gun barrel aimed at 007, was created by Maurice Binder in 20 minutes with white sticker dots just minutes before he presented the idea.
Whether it's 1960 or 2012, you can't have a Bond film without it.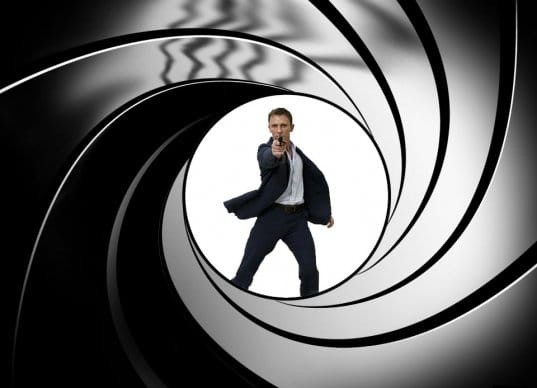 Bond films became style forecasters, influencing everything from fashion and gadgetry in the pages of Playboy and Esquire, interior design, cocktails, guns, and of course, cars.
In Skyfall, when they shot up Bond's vintage classic chrome Aston Martin DB5 that first appeared in "Goldfinger", the whole theater groaned…"Nooooo, not the car!" Luckily, the car was a clever fake – it's a small-scale model created by a Bavarian 3D printing company.
Read more about the making of the car
Dressed To Kill: From the Tux to the Luxe
The suits of James Bond could fill a whole post by themselves.
Funnily enough, Daniel Craig is size 006.
For Skyfall, Tom Ford collaborated on the suits with costume designer Jany Temime. "You take the heritage of 50 years," she told The New York Times, "but you still have to update it to the tastes and needs of people in 2012."
Bond is wearing a silver-gray suit when he powers into Skyfall, the latest 007 escapade, but it isn't cut for office work.
The suit is seductively tight, for starters, and moves like a second skin.
While many people loved the sharp glamour of Mr. Craig's look, some fashion connoisseurs complained that they were inappropriately tight. Some of the liveliest discussion can be found on the site The Suits of James Bond.
One commenter noted that the suits make Mr. Craig "the smallest man in the movie." Another wrote: "A suit should have clean lines, and Craig's suits do not. The suits go against most principles of good tailoring." Just goes to show how every detail of the Bond movies inspires frenzied passion.
But Temime countered: "It suited Daniel so well because it's made for him. The fabric is so light, the quality is fantastic. To me, it was very important to show that body. Yes, you see the leg muscle, and I wanted that."
Yeah! Me too!
"And that's why everybody fancies those suits. They're hot." We certainly think so.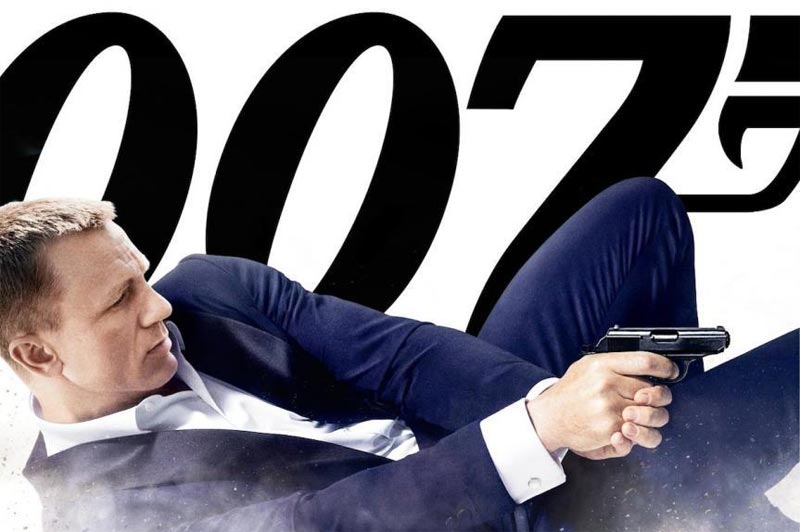 Some things happily never change!
Many if us have grown up with Bond. The influence and style of these films has endured. Though Designing 007 Title Sequences has evolved, the original art has retained its cool. There have been many actors and many films, but there's only one Bond, James Bond. And he's a style icon for the ages.