Trade shows aren't cheap!
Even a modest trade show display with a 20' x 20' booth can run upwards of $20,000. If you are spending all that money, plus travel expenses and time, you want to see it pay for itself and result in new business.
Here's how to succeed at trade shows.
Don't just go and hang out.
Create a purposeful plan with actions to execute before, during and after the show that will pay off in good will and new customers.
Here are ways to make this year a banner year at trade shows:

Before the show: Know your purpose
You are about to spend a lot of time and money to be in a trade show. Think about what you want to accomplish by being there.
Do you want to grow your mailing list?
Cement relationships with current customers?
Introduce a new product?
Meet specific people from prospective companies?
Or, just get a bowl full of business cards you can send marketing materials to later?
Having a purpose to your presence will drive what you say and do at the trade show.
Invite Guests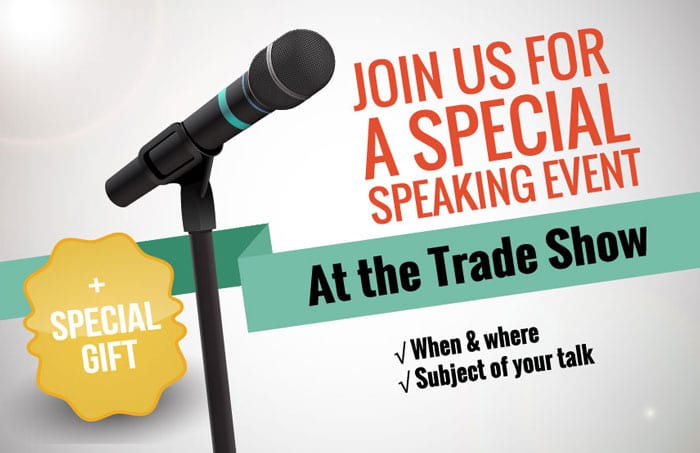 You'll have different opportunities for points of contact. Why not make each one count?
Get attendee anticipation revved up before the show by sending out emails and social media posts inviting current customers, prospects and press as guests. Have them stop by your booth for a special offer or gift.
If you are a speaker, invite prospects to join you.
Make appointments in advance to be sure you have time to spend with particular people, and you'll know whom to expect. If you want to meet the CEO of a company, make a date with them in advance.
Cement Your Brand
Think of your trade show presentation as your brand on steroids. Your brand quotient is the sum of its parts; visually, verbally and in all matters concerning style and tone, with brand messaging positioned right in front.
Plan every aspect of your display from the banner to the giveaway to what your staff talks about so that it aligns with your purpose and cements your brand. Don't just give away a thumb drive with your logo on it! There are many strategic, on brand ways to promote your company after the show.
Explore our graphic design work, including trade show displays
Be a Thought Leader
Most trade shows have speakers or panels of experts. One of the most effective ways of garnering thought leadership status is giving a talk on a subject you know inside and out. You'll be remembered for what you say and do, and presentations often lead to new business. Learn more about our presentation design services here
Choose a topic that will help the audience in their own business. If you can teach them one important thing, they will never forget you. Share your knowledge.
Create a visual slide presentation or video to hold their interest. Keep it very simple. Images with simple headlines connect and help people remember what you said. You can even send a PDF of it to engage post-show.
Rehearse and refine your presentation until you can do it in your sleep.
Read more about presentation from Brian Carter, a master of riveting an audience
Plan Something Interactive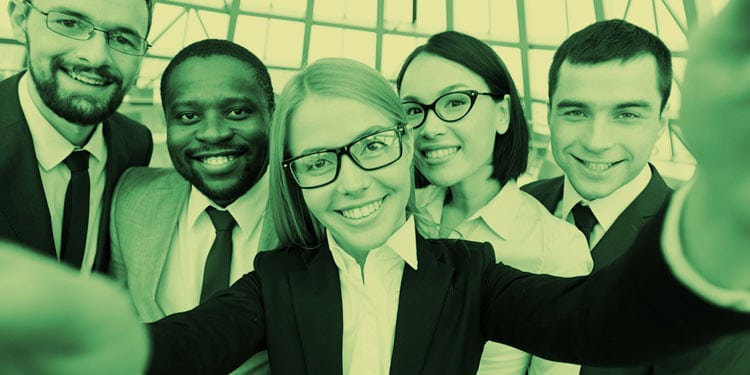 Here's your chance to be creative. Brainstorm ideas with your staff ahead of time to see how you can engage visitors in an experiential activity.
When people are physically engaged, they remember you.
Go wild! Be creative. But be appropriate to your brand.
Here are a few ideas to get your creative juices going:
Rent a photo booth and post the photos on social sites. Have a cool background where they can take a selfie. It gives visitors "permission" to loosen up and have fun, while it performs wonders for your social media presence.
Have them express themselves by writing in a book or draw on a wall covered in paper. Have a video camera set up and ask people things like what their 3 wishes would be, or what would make their lives easier or better. A simple puzzle to solve might be fun, or a wheel of fortune (brand oriented of course!).
You can get free, valuable marketing information! Ask your visitors what they read or watch, what's new in their industry, which can translate into understanding them better and knowing where to advertise. There are a million ways to engage people. Have fun with this one.
At the Show
Set the Mood, Wake Them Up!
Visitors often amble through a conference hall in a somnambulistic trance. What can you do to wake them up when they spot your booth? Use a seductive arsenal to create an experience that sticks in their minds. A multi-sensory approach makes for better brand recall.
Use a Digital Display
An investment in new display technologies can snag the attention of passers-by, creating an opportunity for dialogue.
Instead of a traditional printed banner, consider using a multi-media presentation for your display. Digital display accessories such as an iPad, a touch screen interactive table or flat panel kiosk certainly attract attention.
You can show crisp product demos, testimonials of happy customers or examples of your product in use.
Use Big Headlines on your Banners
When using a banner, use a large, simple headline people can read 20 feet away. Keep images big and dramatic. Avoid lots of bullet points and fine detail. You'll have time to explore your product in more detail once you get their attention. Get the kind that have lighting at the top—trade show lighting is harsh. Here are some examples of trade show design
Be Easy to Love
Think about your booth, table, display and banner design as having a comprehensive flow—it should all work together. Even your table giveaways and raffle gift should be on-brand.
People can be dazed under the fluorescent-lit, massive trade show floor after a few hours. Invite aisle-walkers to come in, chat and take respite with open space and a place to sit. Cookies work pretty well too.
Prepare Your Staff
Your staff should be an extension of your brand presentation.
A uniform or T-shirt is a simple way to identify who works there and display your brand.
Position your most knowledgeable, friendly and accommodating people front and center. They should be nimble-minded thinkers who instinctively know when to dole out the brand scoop and when to troubleshoot. Train them accordingly for the event with the purpose for being there. Don't waste time with people that are there just to get a cookie.
Seal the Deal
Determine your giveaways with brand guidelines. Don't give away a business stamped screwdriver set unless you manufacture hardware. If you own a locksmith franchise, a keychain giveaway would work, but not as well for an attorney.
However small the giveaway, ensure that it's made of good quality. A flimsy item is destined for the waste bin.
Grand prize raffle gifts are useful to gather business cards. Imprinted with your brand name and logo, prizes can range from a home theater club chair with a slide out cooler to something as simple as dinner for two. Just remember even your grand prize should have something to do with your brand.
After the Show

It's all in the followup
It's amazing how many companies collect a lot of business cards that sit in a pile after a show. Plan ahead here too. Be ready with a follow-up gift or hand-written card, and send it immediately. Offer them educational material over time to say I'm thinking of you. It could be a white paper, eBook, a list of relevant articles, even a referral to a vendor or resource. Follow up until you have a yes or a no.
Hire Talent!
Trade show planning can be daunting, especially for the first time exhibitor. Consider hiring a brand development professional, PR consultant, designer, event planner, speechwriter or UX expert to help you make the most of your trade show investment.
Leave Them Wanting More
The courtship has begun. You've offered a provocative sampling of your brand and memorable experience, just like a first date. How you develop a stronger relationship that can lead to business is all in the follow through.