Do you feel like David in a world of Goliaths? Do you wish you could go undercover and see what your competitors' are up to?
Imagine if you could and you could get information on how they are winning business you could have! Lisbeth sure knew how to keep tabs on her primary adversaries!
You don't have to install spyware on your competitors' computers to do this either.
There are an endless amount of (completely legal) tools and tactics that you can use to get real insights into your competitors. But with so many options, how do know which ones are the best?
How To Spy On Your Competition Like A Hacker…
Here you'll discover 11 ways you can do a little spying on your competition. The great news is that many of the best tools are completely free (and all are legal!). Other tools offer both free and paid services.
Either way, one thing these tools will definitely do is let you get the inside scoop into how your competitors' operate.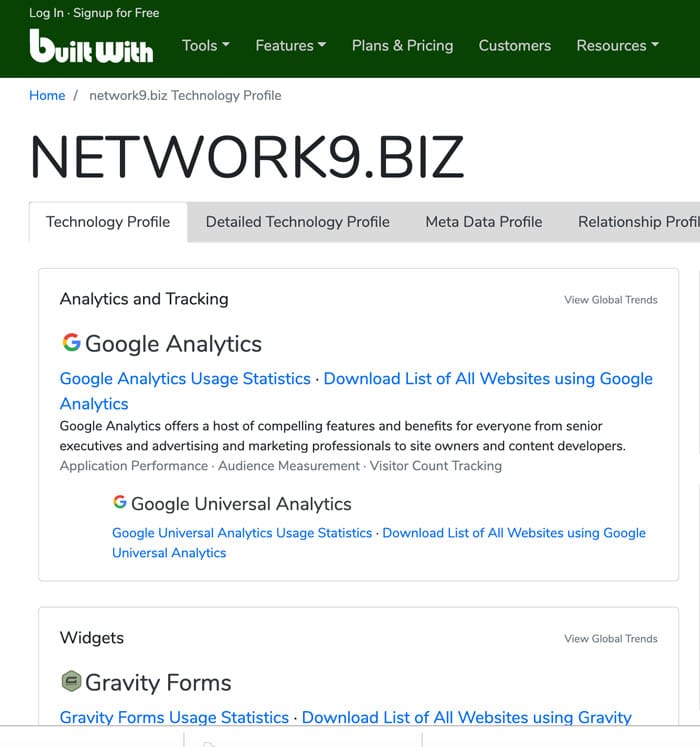 A great first step in spying on your competitors' is builtwith.com.
This is an amazing tool that gives a complete overview of the technology a website is 'built with' – hence the very obvious name. You will be able to find out information such as which content management system your competitors' sites are built on, what plugins and widgets they are using, what analytics tools they use, and even who provides their hosting. The best thing about this tool is it's free to use.
Simply enter your competitors URL and you will have all of this information at your fingertips.
Explore our website design work here
2. Making The Most Of Search
Once you know what makes your competitor's websites tick, it's time to enlist the help of search operators, such as Google, Bing and even (dare I mention it) Yahoo! These search engines will easily help you to get some valuable information on your competition.
For example, you can find out how many pages are on your competitors' websites by using Google. Type in site: before one of your competitors' URL's.
For example site:competitorURL.com, and you will quickly see how many results their site has in the index. This will give you an idea of what you are up against. Just for fun, we typed in site:hubspot.com.
You can take this a step further and see what kind of content your competitors' have created (such as PDF downloads). Using HubSpot again we typed in site:hubspot.com AND filetype:pdf to see what content they offer.
If you type this into your search box and replace hubspot.com with one of your competitor's URL's, you'll be able to find out exactly what you are up against and how much work you have to do.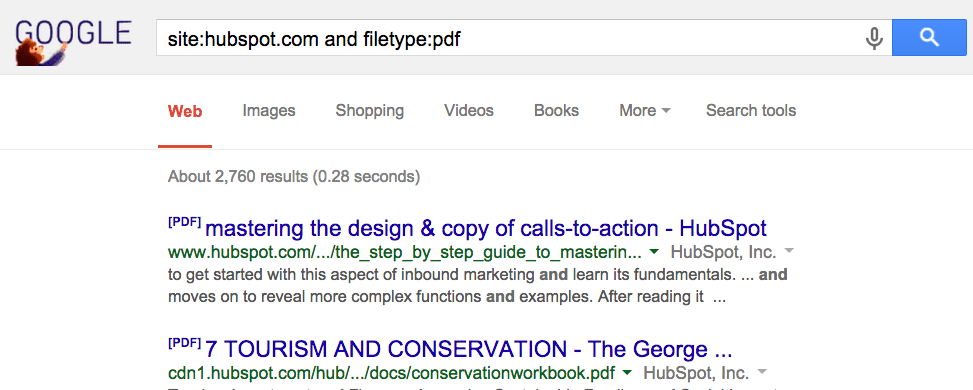 Doing this will give you an idea of the quality and type of your competitor's content they are using to generate leads.
Pro tip!
Use the related search terms list at the bottom of the search page. This will give you more search terms related to the one you searched.
Learn more about our SEO services here
Now you have done research on your competitors', you will have a good idea of what keywords they target. But how do you decide what keywords are right for you?
A great place to start is Google Keyword Planner. This tool gives you keyword information direct from Google and shows you the search volume (how many people search for a keyword) for each one.
Search volume can be viewed by month and location.
Google Keyword Planner will give you an idea of how competitive each keyword is based on its competition score and the average bid price.
The higher the CPC (cost per click), the higher the difficulty for ranking highly in a search result will typically be.
A keyword's ranking difficulty can range from 1-100, with 1 being the least difficult and 100 being the most.
You do not want to target keywords that are too difficult, as the chances of you ranking highly for these are slim. Unless you are super aggressive!
This tool is free to use, but you need a Google AdWords account to log in. Once you are logged into your Google account, go to the Keyword Planner.
Here you'll see several options. Select "Search for new keyword and ad group ideas" and add the landing page of your competitor.
Hit submit and Google will give you a list of keywords that are relevant to the page.
You can download these keywords in an Excel format and use them to build a keyword list. Now you can start creating that all-important content!
Like Google Keyword Planner, SEMRush provides keyword data and also returns results for both organic and PPC (pay per click) keywords. But it doesn't end there.
SEMRush is one of our favorite tools because it specializes in competitor data.
This tool gives you access to a wealth of information on your biggest competitors. All you have to do is type your competitor's website into the bar at the top of the homepage and you will see their organic keywords and rankings, PPC or ad keywords and their traffic.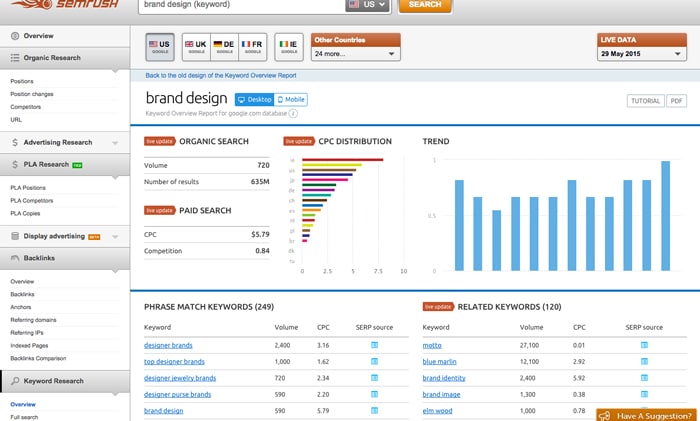 SEMRush also provides results and comparisons of sites similar to yours. It lets you monitor and compare your competitors' organic keyword positions with your own, find relevant long-tail keywords, see their PPC ads, and much more, including additional SEO tools.
There are both free and paid options for using SEMRush.
While you can get a wealth of valuable data from the free search bar on the homepage, the real power is in the paid tool. With the paid tool ($69.95 per month) you will get more thorough and extensive results.
Now that you have your keywords ironed out, it's time to really see what you are up against and get insights into your competitors' traffic.
SimilarWeb will give you these insights for free. All you have to do is type in the website you want information on and you'll get the global, country and category rank of that website. You will also get a graph that shows the number of monthly visitors for the last 6 months.
And that's not all. You will also see where traffic comes from.
Learn whether it is from direct traffic, from social media, referrals, search, email or display ads, what sites refer to your competitors' websites, what your audience is interested in (based on your site's content) and so much more.
You can see all of this data for free (it's pretty amazing!), but there is also a paid option for more in-depth data, such as suggestions of competitors you may want to watch.
Buzzsumo is your one-stop-shop for viewing the most popular and shared content. You can do this by searching for a specific website or a keyword. This an amazing source that will allow you to find out not only the type of content that is out there but also what is most popular and widely shared.
Recently purchased and updated by Neil Patel, this tool is better than ever.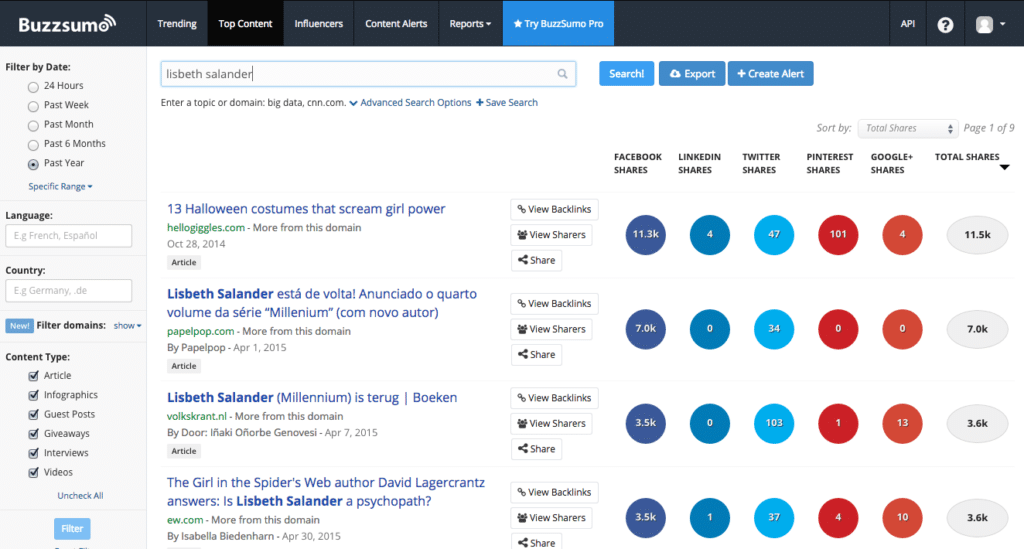 All you have to do is enter their domain name or a search term in the search bar on the homepage and you'll have these results in seconds (we used Lisbeth Salander).
There is both a free and paid option. The free option allows you to see the first 10 results when you search a domain name. If you want to see the full list of results you will need to sign up and pay for the full service.
Buzzsumo also allows you to create a content alert to track when your competitors produce new content.

Now that you have sorted out keywords and content, you need to get thinking SEO!
SEOquake is an SEO tool and browser extension that lets you quickly see a wide range of metrics and how you compare to other sites.
You can find out the amount "nofollow" links a website has, check the PageRank, view Alexa stats, check backlinks, and see keyword density. The great news is, it's free to use.
Using SEOquake is really simple.
All you have to do is install the extension in your browser and when you visit your competitor's sites you'll see the age of their domain, linking domains, PageRank and what pages of the site Google and Bing have indexed.
Next, you can go to their homepage and service pages to look at the keyword density for each page.
This will tell you what keywords they are trying to rank for. The results won't be perfect, but it's a quick (and sneaky) way to dig a little deeper.
Moz is a top SEO tool provider that uses a vast range of research tools to help you in your search engine optimization.
These tools are both basic and advanced and can give you a complete view of how your website stands up to your competitors in search.
The list of what Moz offers is almost endless.
It provides keyword research tools, an SEO keyword generator and link analysis that provides detailed information on your inbound links and the quality of your links.
Moz also allows you to do is an analysis of a competitor's backlink profile. Through the platform, you can see exactly what inbound links your competitor has.
Inbound links give authority to a website and help them rank higher in search engines.
One great benefit of Moz is that it allows you to crawl your site alongside your competitors to see exactly how you stack up.
Moz also offers a Domain Authority checker. Domain authority is taking over from PageRank in importance when it comes to checking the strength of your (or your competitors) website.
Google Alerts lets you keep an eye on where your competitors are getting mentioned on the web.
All you have to do is add their domain and brand names to your Google alerts and you will get an email right to your inbox every time a new mention appears in search results.
You can create Google alerts based on:
Brand name
Product/service names
Domain
Names of owners and front people
Seeing who is giving them publicity can help you target your own efforts.
10. Your Competitors Tools
One very sneaky but super easy way to spy on your competitors is through their own marketing efforts.
Every company has a number of resources that you can check to see what they are up to and also to see what works (or doesn't). Check their:
Social Media
Do your competitors have a Facebook page? A Twitter account? A LinkedIn page? YouTube? Follow them and study what they are up to. Looking at what your competitors are doing, how often they are posting and what new ideas they are working on is a great way to create engaging content to build your own presence.
Blog
Do you have a blog? Or want to start creating content? One of your first steps should be to see what your competitors are doing.

What type of content are they creating? How often do they publish new posts? Your competitor's blogs will give you an idea of how often you should blog, the type of content you need to create and generally what you are up against in the world of content creation.
Newsletters


This one is not exactly hacker level spying but is often overlooked. Create a Gmail filter and folder in your inbox to collect and save each email. This way you can see your competitors' offers and get a feel for their content marketing strategy. You will also be able to see the type of subject lines they use and the tempo and strategy behind building their engagement. You'll also see what new products or services they are offering.
The Key Takeaways
Spying on your competition is not just about uncovering data. It is about knowing how to use this data to your advantage so you can grow and develop your own company's virtual voice.
Start small. The world of inbound marketing can be overwhelming, so start by using 3 or 4 of these tools to get the hang of it.
No matter how big or small your company is, pay attention to the Goliaths in your field. You know what they say… 'Learn from the best'.
More than likely these companies have done extensive marketing research and testing, so study what they do and make them work for your company.
You should also keep tabs on smaller, more nimble competitors that are already in or may be entering the market.
If you keep a watchful eye from the beginning, you can recognize successful marketing strategies, new technologies and product advancements in their infancy and use your resources and established presence to move quicker.
Now you too can spy just like Lisbeth!