Teamwork is essential to creating a brand or it just won't happen. Here's how building consensus can build a brand.
When we meet with companies to launch a brand  strategy and design project, the whole team is involved, which is great!  The challenge with working with many personalities and opinions is to herd the cats and achieve consensus. Here's why this is so important.
Compromise insinuates that someone has to give something up.
Consensus implies that everyone in the room reaches a decision together.
Without consensus, we can go around in circles and never arrive at a destination, causing frustration and boredom with the project. Some may feel they are not heard or don't agree with the decision, leaving them unhappy. The result is that the team never likes the design work after that. This leads to subtle sabotage thereafter.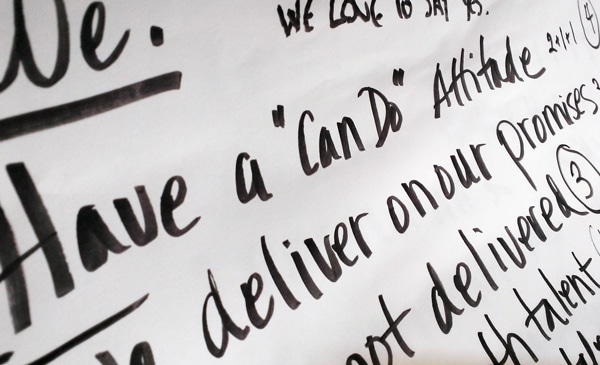 Recently, we hosted a "Brand Breakdown" for a client of ours and we set out to define:
Who are their target customers?
What do their customers care about?
What are their fears and desires?
How is our client unique—What makes them special?
How can "who they are" answer their customer's needs?
It was fascinating to watch them hash it out. There were 5 people in the room, and everyone had a different interpretation of who they were. Friendly quibbles arose relatively quickly, especially when specific choices had to be made. Language was a big one. Were they "cool", savvy" or "cutting edge"? Were they "hard-working", "dedicated" or "can-do"? But they lit up with ideas, and in the end, they achieved consensus!
These things might seem irrelevant at first glance. They're just words, right?
Most of them can mean the same thing. But words carry a very specific connotation and choosing them is a challenge. Funny how very similar words can mean very different things, right?
Setting the stage for an authentic Brand Identity
But defining language and tone when building a brand helps set the stage for everything else—the strategy, design, copy, images, and the overall context. No one is going to fall in love with you if they don't know who you are! Learn more about our Brand Strategy services here
Making lists to achieve consensus
Here's how we structured the meeting:
We listed the characteristics of their potential clients
We listed their fears and their desires
We made a list of the company's strengths and weaknesses
We listed the company's personality traits
Narrowing it down
Once we had these lists, which were quite extensive, we began to narrow it down. We combined words that were similar, such as "knowledgeable", "smart" and "savvy" and chose the one everyone felt expressed them best as a company.
From these smaller lists, we asked everyone to rate the characteristics and descriptive words from most important to least important—without letting the others see their votes. It was amazing how certain things emerged as the key elements.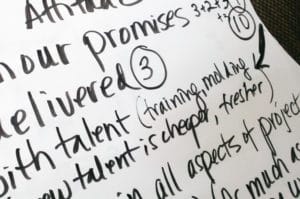 What was great about our clients was, by the end of the meeting, no one felt like they had to compromise. They all felt like they'd contributed to the decision.
Reaching a consensus with your team about your specific brand language is good for the company and good for the team.
Without consensus, your team will not support the direction you are taking.
A rebrand will not succeed unless everyone understands it, practices it and applies it to their everyday work life and interactions with clients.
It is inspiring to see how excited and unified the team was when they left. And, how clear we all were about the brand direction we were taking. We now had a strong foundation on which to build a brand that everyone was excited about.