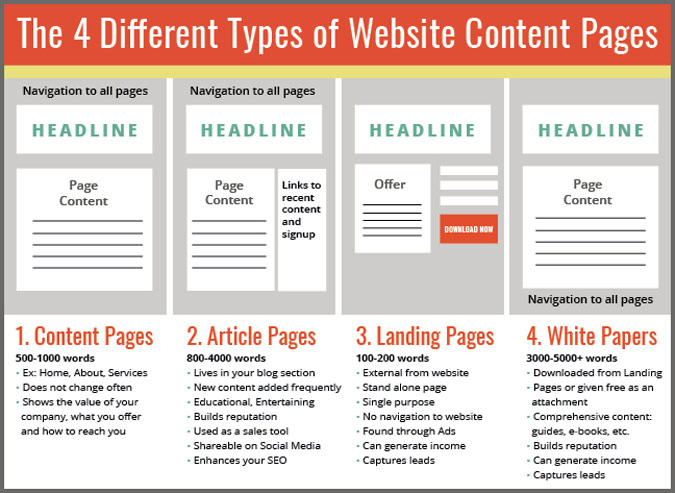 The function of each kind of page
Often, clients confuse landing pages with blog articles, white papers with posts and pages with articles. To set things straight, we are going to dissect the 4 different types of Website content pages, and how each one functions.
It is important to know what type of page is appropriate for the content you are creating, so you can write into it the right way.
Each type of page has a different goal, strategy and intended action in the customer acquisition process.
Content can sometimes be multi-purpose and in different iterations, appear in more than one place. I'll show you how.
1. Content Pages
It's purpose: To introduce your company, tell your story, show them how your product or service solves their problem and create trust.
Sometimes called "static" pages, these are the foundational pages of your website.
Examples of this type of content are:
Home Page
About Us
Services
Contact Us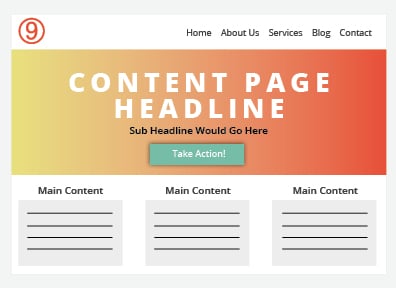 These pages convey who you are as a company, what you do, the value to customers, and how to reach you.
This is where you invite people in. But you only have about 3 seconds to engage. Our 3-30-3 Rule is if you grab their interest in 3 seconds, then they read on for 30 seconds, then spend 3 minutes on your site—wow, you have won their heart.
These type of content pages don't change very often. Unless a new product or service is added, a new staff member comes aboard, or your address changes, this content is "Evergreen".
Your Home page is, of course, the most important page of your website.
Most often, your Home page is the first stop when people are looking for something. It is the earliest stage in customer acquisition, so it better be good, or they will go elsewhere, usually to a competitor. Think of it as customer service. How can you help?
The second most important page is your About Us page.
Here's where your story continues. If people go there, they are definitely interested and want to know more. Learn more about why your About Us page matters—a LOT
Here's where you build the trust you need to open their wallets.
After that, your service pages give more detail.
People may get to a specific service page from your home page, but often find these pages in a search—if you did your SEO work properly. So again, invite them in, show them around and let them know why they should choose you.
Make your home page (and every page) about THEM, not me-focused
Your headline must be killer and show the benefit of your product/service and/or the problem you solve immediately
The main image (and all images) must support your positioning and reflect the headline of the company
Navigation must be clear, with multiple ways of finding what visitors want
Make contacting you super easy
How many words should you use?
The recommended minimum length for Website content pages is 300, but we go for 500-1000. Don't make the mistake of writing filler content just to get there. Make it meaningful, use subheadlines so people can scan the text and write like a human. Give people a reason to buy from you. Not an information dump or a laundry list of services.
The idea here is to make your site the last stop in deciding who to call or hire. Not to move on to your competitors.
2. Article Pages
It's Purpose: Early touchpoint in the customer acquisition process
AKA your blog. Each page is an article. This type of website content changes frequently, sometimes 3 times a week for aggressive content producers.
It informs, can be shared on social media, and is also used as a sales tool.
Each article adds fresh content to your website, is great for SEO, social sharing and is often the doorway into your site from the search engines. Many salespeople attach an article from their blog to an introductory email.
Read our Post on why ignoring SEO on your blog is a waste and what you can do yourself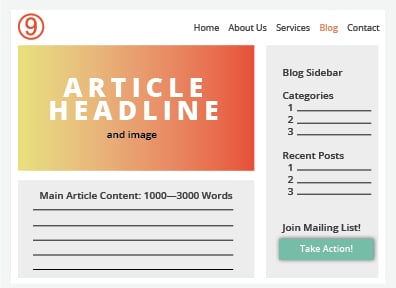 This type of content is educational, entertaining or tells a success story.
For most B 2 B businesses, educational is the big one.
It shows you know what you're talking about rather than saying it
It helps people solve a problem or learn something
It builds your reputation
Entertaining is fun too.
Here's an example from our site showing 60's psychedelic art. It is design related but created just to entertain.
But success stories (sometimes called Case Studies) are great too if you write them like a good screenplay.
They show how you pulled a rabbit out of the hat for a client.
They get an experience of working with you.
They get how your product or service works in real life.
How many words should you use?
The recommended minimum length for article pages used to be 500-1000. But the latest research shows much longer content is more widely read. Articles now may have 1000-4000 words. I get it. Why read 3 or 4 articles when someone gives you everything you need to know about a particular subject in one?
As a benchmark, this article is about 1400 words.
3. Landing Pages
It's Purpose: Acquiring their email, making a sale
This one is the most misunderstood. Landing Pages are mainly "landed on" from a paid ad.
Landing Pages have a single purpose. To give those who clicked on your ad the exact information they expect.
If you are giving away, for example, an ebook, seminar or guide through a Google adwords campaign, your ad brings them here. Not to your Home Page! People will react like a deer in the headlights because they are immediately lost! So is your sale.
If you are selling something, the same thing applies. Take them to a page purposely built for that one thing.
Same goes for ads that focus on a certain service. Take them straight to a page built specifically for that service.
These types of pages contain these elements:
A SHORT description of the item—of course showing the benefit to the visitor
A nice catchy image
A form to fill out, the shorter the better (name, email)
A big colorful button to click
What it does NOT contain: 
Navigation elements that usually appear at the top of a website. No distractions. After they click and get their offer, download, etc, THEN you can add a link to your main pages on the confirmation page. Follow up with other content later.
How many words should you use?
Very few. Maybe 100. Short and to the point. Only describe the one item. Your gift is one of the first steps to winning a new customer.
Landing pages are also used for purchasing products.
A seminar series, an EBook, event series etc. can generate revenue for you. These types of Landing pages are typically longer as you are asking for them to part with their money.
In this case, the Landing page has a series of stages of engagement that draw the customer in. It could include a discount, free something, last chance, an extra something, etc. There are calls to action along the way so when they are ready, the button is there.
4. White Papers
It's Purpose: Customer engagement, revenue generation and trust-building,
Sometimes confused with articles, White Papers are much more comprehensive. Think of them as an eBook.
Typically they are in the form of:
Guides
In-depth research
EBooks
Tutorials
Handbooks, etc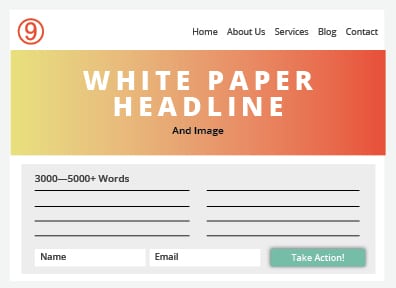 Remember I said articles may be multi-purpose?
Here's where you could use 4 or 5 of your articles written around a single subject, and combine them into a White Paper. For example, "A Beginner's Guide to Blogging" might contain info from your article about "Getting Started with Blogging", "How to Find Content for Your Blog" and "How to do SEO on Your Blog".
Great separately, powerful when grouped together. And you don't have to rewrite everything!
Understanding how content varies on different pages can support you in organizing your topics. For example, group articles around a broad subject such as "Losing Weight". Write 5 articles within various topics in that subject.
Later on, these can be incorporated into a White Paper on Losing Weight, containing sections on mindset, meal planning, menus, exercise tips, etc., which you have already written as separate articles.
This type of content organization is also an SEO strategy to build rank around general, and often very competitive keywords.
Now that we have dissected the 4 different kinds of Website pages, you can write more strategically.